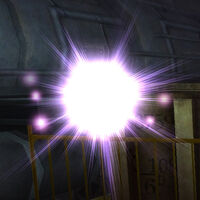 Memories are collectible thoughts in Nights of Azure. They are crystallizing due to the Night's effect. Some Memories will only appear at the certain part in the game's story progress.
List of Memories
Edit
Image
Thoughts
Location
I think this is it for me. Ohh, but if there is a God, then please... I don't even care if it's only in a dream. Please, just let me see... Arnice!

- Lilysse

Chapter 1, Old Count's Rose Garden, Outer Garden
To be able to walk alongside Arnice like this... I'm so happy.

- Lilysse

Chapter 1 - Interlude, Rochester Subway Line, Central Station
It looks like a typical amusement park. Do fiends really come out at night? While Simon shows me around during the day, I should pray... for Arnice's safety.

- Lilysse

Chapter 2, Amusement Park, Entrance Gate
It reminds me of the traveling carnival that came to our dorm. Everyone wanted to go with Arnice, so they'd write letters and give her presents. She'd always refuse though. I wish we could've spent more time together...

- Lilysse

Chapter 2, Amusement Park, Entrance Gate
That new scarf design with the little bird at the shop I just went to was so cute. The lace blouse was so pretty, too. Ahh, I really want to give Arnice a makeover!

- Lilysse

Chapter 2 - Interlude, Clarane Market Quarter, Sewer (Front)
Please keep Arnice safe.

- Lilysse

Chapter 3, Ruswal Opera House, Entrance
W-Woah, this place is really surreal... Simon is denying it, but we're definitely lost, aren't we? Are we going to be okay...?

- Lilysse

Chapter 3 - Interlude, Astaire Sewers, Market Entrance
Arnice might come by this place, too. If so, please help her get home safely. And also, please help us... You can do it, Simon.

- Lilysse

Chapter 3 - Interlude, Cemetery, Central Station
Don't be so foolish, Arnice! If something were to happen to you, I...

- Lilysse

Chapter 3 - Interlude, Ende Hotel, Suite
What I said before was pretty harsh... Arnice must be really hurt...

- Lilysse

Chapter 4, Ende Hotel, Suite
When we lived in the dorm, you were the only one who wouldn't pray. You'd say God wouldn't help; only you could save yourself. We all admired your strength, but... I was afraid you'd bear the weight of the world all by yourself...

- Lilysse

Chapter 4, Church of the Defiant God, Narthex
Since you've came to this land, you've met many people, but there wasn't a single soul you knew from before. Arnice... where were you before you met me?

- Lilysse

Chapter 4 - Interlude, Artisan Quarter, Castle Ruins (Front)
Please, withdraw Arnice from such a dangerous mission.

- Lilysse

Chapter 4 - Interlude, Cleveland Castle Ruins, Canal Port
Oh no, my legs are shaking... There must be a powerful demon nearby. I can't believe you have to fight in a place like this, Arnice...

- Lilysse

Chapter 5, Cleveland Castle Ruins, Palace (Front)
You came on a small, shoddy boat, didn't you? If we were just normal girls, do you think we'd ever have met, Arnice?

- Lilysse

???
I wonder if maybe we also met because...

- Lilysse

???
Hrnngh... Simon said I'm not allowed to... But I think it'd be best to clean this statue, too... Ahh! O-Oh ouch...

- Lilysse

???
I wouldn't trade the time I got to spend with you for anything. I'm so glad I met you, Arnice.

- Lilysse

???
The stars are so pretty... They remind me of the picnic. Wasn't that so much fun! Arnice, I pray for your safety, and I believe you'll return home. But... I feel uneasy still.

- Lilysse

???
It seems this time the Saint and Holy Knight came to seal away the Night completely! By the time my grandkids are walking, the world will be completely at peace. Living a long time is worth the while!

- Grandma

???
I never imagined the Saint and the Holy Knight would be such cute, young ladies! It's coming! A trend is coming! Scarves, blouses... it doesn't matter! I'm going to create products based off whatever they like!

- Shop Owner

???
First Justin resigns, then Raul... I have hope for the new Saint, but there must be much angst because the outbreak area has spread. Those who have a place to go home, those who have wives and kids? those are the ones who should be allowed to escape...

- Station Master

???
I wanted to see something I had never seen before, so I traveled around the world. But when I heard this island may disappear with the approaching Eternal Night, I got scared. I don't have anywhere to go or even anyone to protect. Haha, isn't it weird?

- Customer

???
The other day, I saw the hotel manager and the girl. I want to play with them again.

- Servan

???
When the Nightlord awakens, I'm sure impure ones like us will be destroyed. I need more Blue Blood. Even if it means eating allies, I need it.

- Servan

???
There are places that will benefit from total warfare against the Nightlord. And because war triggers a demand for weapons and armor, it is our bread and butter. Ngh, it makes me sick.

- Artisan

???
I don't care if it's red or blue... I just want to collect one color of blood and be to dye mine with it. If I can't be a human or a demon, I'd rather revert to what I was before...

- Antsy Servan

???
The port is crowded again today because of all the news about the world ending. I guess it comes down to those who can escape. In case worse comes to worst, I need to be ready to leave, too...

- Merchant

???
It's so exciting to be able to observe Servans this close without having to go outside! All right, Servans, let's proceed to touch? I mean get acquainted... Bwaah!
???
The Curia demanded those girls have separate rooms... But when I see them, I can't bear to do that to those two.

- Manager

???