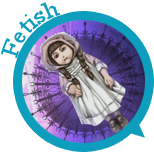 Fetish is a special item to actualize Servans and make contract with Arnice and Aluche.
Fetishes can be found as rare drops, won in Arena challenges (one time each), or purchased for Blood from fiend merchants. A Servan's transformation factor value can be increased by giving them the same fetishes (summoning materials) as their class/type. Giving fetishes to Servans also increases their stats permanently.
List of Fetishes
Edit
Nights of Azure
Edit
Note: The only way to obtain Red Coral fetish is through Trade Merchant, 2nd item from Oceania region.
Nights of Azure 2
Edit
Ad blocker interference detected!
Wikia is a free-to-use site that makes money from advertising. We have a modified experience for viewers using ad blockers

Wikia is not accessible if you've made further modifications. Remove the custom ad blocker rule(s) and the page will load as expected.